About Lloyd Gage and Tool
From a young age, Don Barth worked for his grandfather, father and uncles at Barth Industries. He started his business in 1959 while at Bowling Green State University studying Business and Accounting. Don attended classes Monday through Thursday, made sales calls on Friday and Saturday and spent Sunday balancing the books. He inventoried products for delivery from his "warehouse" – his parent's garage in Fairview Park. After graduating, Don continued to build his business until his passing in August 2006.
A Family Business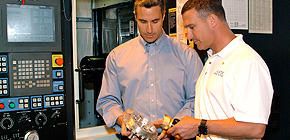 Don's sons, Brian and Pat, have been involved with the company since 1973, spending their childhood summers sweeping floors, emptying wastebaskets and cleaning windows. As they got older, they started stocking and shipping inventory. After graduating college in 1991 they joined full-time, concentrating on business aspects such as sales, purchasing, ordering and accounting. With the third generation of the Barth family following in their father's (and grandfather's) footsteps, Lloyd Gage and Tool plans on being around for another 50 years.
While the metal-working industry continues to change, Lloyd Gage and Tool's vision remains the same. We're dedicated to your success and we will continue to serve you with the same values and high standard of customer service we've demonstrated for the past 50+ years.
Some Impressive Reengineering…
Introducing the latest innovation brought to you by Lloyd Gage & Tool. The new Lloyd Gage & Tool. From the humble beginnings of a college dorm room 56 years ago, to 40+ years in the valley along the Erie Canal, to our new location on Transportation Blvd. near I480 and I77. Our renovation and move is complete. We are open for business and now serve our customers from 5265 Transportation Blvd, Cleveland Ohio 44125. Our phone, fax and email the same. Stop in and check out the new digs when you're in the area.

New Findlay, Ohio Branch
We are happy to announce we have a new branch location in Findlay, Ohio at 655 Fox Run Road, Suite B.